Ravioli, funny to make, light and perfect with every condiment. Try to make this Nonna's recipe at home, and don't worry, she will always be ready to explain it to you in person….
Recipe for 2 people
Dough
Do you know how to make the perfect dough? These are the instructions of Nonna Nerina 👵
Ingredients for the stuffing
250g of ricotta cheese
300g of spinach
4 spoons of grounded parmigiano Reggiano
nutmeg (a pinch)
salt q.s.
1 egg yolk
Steps
Clean and carefully wash the spinach, then let them boil for a few minutes (add a pinch of salt to the water) inside a pot.
Take them out and dry them.
Chop the spinach and place them into a bowl, then add the other ingredients: ricotta, egg yolk, parmigiano and a pinch of salt. Mix everything and add some grounded Nutmeg.
Now let's work with the dough. Work the dough with the machine until it reaches the level 5 of thickness (make sure that you pass it twice on the last level).
Make sure that your strip is not to narrow, otherwise our stuffing will come out!
Now with a spoon, take the stuffing and place a small quantity in the middle of the dough, keep doing it until you fill the whole strip. Make sure to leave two fingers of space between the small balls.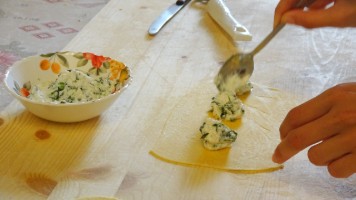 With both of your hands, fold the dough and make sure to cover the stuffing.
Seal the dough with your fingers (just press on the dough) and let all the air come out.
Then take the "rotella" (the tool to cut the dough) and cut your ravioli, leaving a centimeter and a half of edge from the stuffing.
The leftover dough can be used again in the machine to make more ravioli!
Let the water boil, add some salt and throw your ravioli in it, they will be ready in a few minutes. The cooking time varies according to the thickness of the dough. To make sure that they are cooked all the way through, cut a small corner and see if the color of the dough is homogeneous.
Dry them and use your favorite sauce! Light sauce are highly suggested, like the classic butter and sage of Nonna Nerina!
TIP: if the dough is too dry and it doesn't close itself easily, use some water as glue!